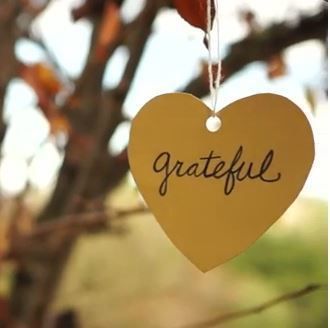 Blessings in the New Year!  2021 is a special year for Marian Woods Convent, as we mark our 20th anniversary.  As part of our year-long celebration, we will kick off the blog series, Twelve Months of Gratefulness. 
And there is so much to be grateful for--in spite of the sweeping changes brought on in 2020 by the pandemic and the resulting feelings of isolation, fear and loss, the Marian Woods community continues to exemplify and bear witness to the amazing strength, resilience and goodness that is all around us. 
Our dedicated staff, who has demonstrated courage and steadfastness in the care for our Sisters and each other, continues to go above and beyond in their efforts to keep this loving home and its occupants safe.   
Our Sisters continue their good works, through a phone ministry to those in need of prayer and conversation, by sewing materials for Days for Girls International and taking up a monthly drive for the hungry.  The Sisters also pray daily for those who have been lost to the virus and their family members, the intentions of others, and for the needs of our country and world.
Throughout this year, our donors and friends have reached out to us in an outpouring of generosity with both gifts and prayer helping us meet the many additional expenses resulting from this pandemic such as the need for increased staffing, and maintaining safety measures. 
As we begin our 20th year, we are grateful for those who had the foresight to envision a home where our elder Sisters could age in place in a loving and safe environment.  Since its beginning, Marian Woods has been home to over 150 Catholic Sisters who have enjoyed a rich spiritual and community life with many opportunities to continue to serve others.
In the coming months, we will tell you more about those who were instrumental in Marian Woods' founding such as Sr. Patricia Wolf, RSM, author Mary Higgins Clark, the Ladies of Charity and our founding congregations—Sisters of St. Dominic of Blauvelt, Franciscan Sisters of Peace, Sisters of The Blessed Sacrament, Sisters of Mercy, and Society of the Holy Child Jesus.  We will also bring you snapshots of our twenty years together through pictures, interviews and articles. 
We will have more details in the coming weeks of how we plan to celebrate this milestone, and the opportunities for your participation.