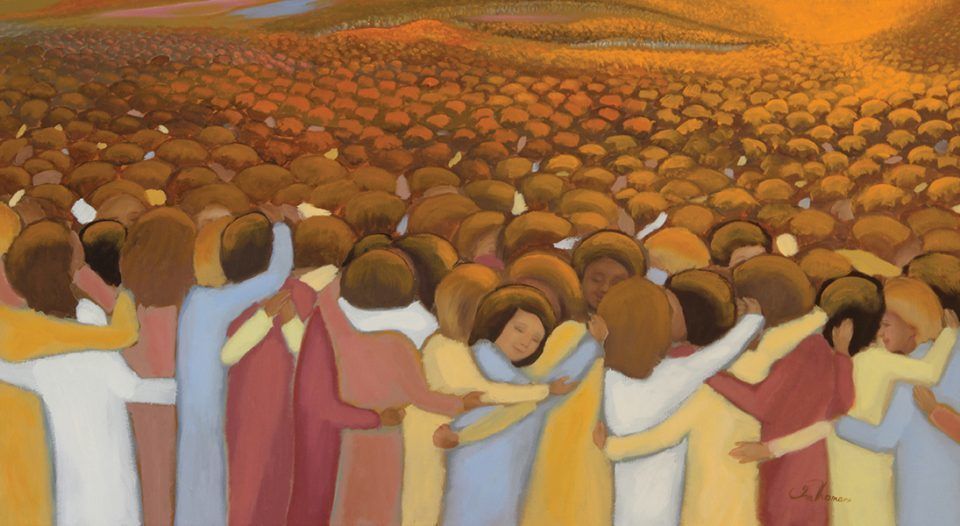 Many years ago, while ministering in Pakistan, another Sister and I made a seven-hour train ride during the Muslim holy month of Ramadan. During Ramadan, Muslims fast from sunrise to sunset. Out of respect for this fast, we chose not to bring any food for the journey. Sitting across from us was a mother with her two young children. It was obvious that she was a very loving mother.
At sunset, cannons went off across the country announcing that the fast could end. The woman took out the flat bread and curry she had prepared and placed them on two metal plates. She reached across the aisle and gave us half of what was just enough for her family, insisting that we accept the food. As she reached across the aisle, she reached across distances of culture, religion and nationality in a simple yet profound gesture of hospitality to two strangers.
You are stranger and aliens no longer. You are fellow citizens of the saints and members of the household of God.   Gal. 2:9
Today, in the midst of a devastating pandemic, the global community finds itself on a journey; a journey that calls for the human solidarity and self-giving exemplified by the young Muslim mother.
We are all called to be holy by living our lives with love…and by bearing witness in everything we do wherever we find ourselves.  Pope Francis
The sisters at Marian Woods, where I minister, have given decades in service here and abroad. Now, they are required to shelter in place, due to COVID 19. Undaunted, the sisters started a phone ministry to parishioners who could benefit from spiritual and emotional support during this time of isolation.
With unselfish generosity, our fellow Americans, people of every persuasion, are reaching out in countless and varied ways to relieve the suffering of neighbor and stranger alike. Faithful to their calling, over 900 doctors, nurses and medical personnel have given their lives trying to save their patients who suffer the ravages of COVID 19.
There are ordinary saints all around us doing extraordinary works of love without measuring the cost. Their lives embody the words of William Blake: We are put here on earth for a little space to bear the beams of love. On All Saints Day, we give thanks to each of them for bearing the beams of love in our world.